VIVA MAGENTA: THE PANTONE COLOR OF 2023
Every year, Pantone embraces a new color. For 2023, we couldn't be more excited to welcome Viva Magenta, an offshoot of the red family that combines a bit of pink, purple, and blue—and is all about optimism for the cheery days ahead. Here's where you'll find this vivid shade right now at The Shops at Columbus Circle.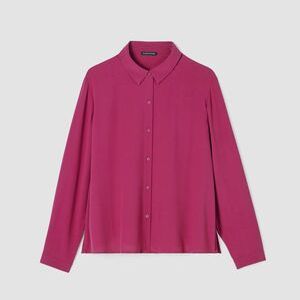 Eileen Fisher
Eileen Fisher: This Silk Georgette Crepe Classic Collar Shirt is elegant and on trend with its bright hue and responsibly dyed material.
STAY IN THE KNOW
SIGN UP TO RECEIVE MORE CONTENT LIKE THIS AND EXCLUSIVE INVITATIONS AND OFFERS ON FOOD, FASHION AND FUN.