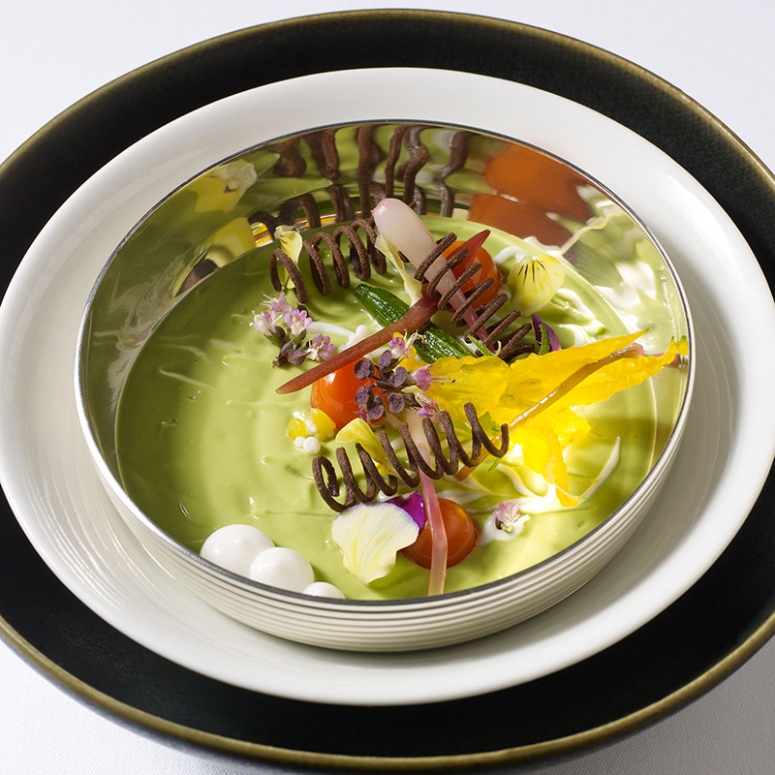 With striking views of Columbus Circle and Central Park, the Per Se dining room is a rare blend of open space and intimacy, discreet drama, and understated luxury. Offering a dining room, a private dining room, a lounge, a bar and a wine cellar, all presented in a palette of warm neutrals and natural elements, Per Se will refine and redefine your dining experience.
Hours:
DINNER
Daily: 4:30pm-8:30pm
Renowned for his culinary skills and his impeccable standards, Thomas Keller is the chef and proprietor of The French Laundry, a Yountville, California landmark that has been hailed as the finest restaurant in the world. Ten years after opening this, his first restaurant, in 1994, he followed with Per Se, which brought his distinctive fine dining style to Manhattan. Today, both restaurants enjoy three-star Michelin ratings, making Keller the first and only American-born chef to hold multiple three-star ratings from the prestigious dining guide. Chef Keller has also opened Bouchon, Bar Bouchon, Bouchon Bakery, and Ad Hoc, each of which contributes to the new paradigm he has set within the hospitality industry.
More than one million copies of Chef Keller's books, including the New York Times bestsellers "Ad Hoc at Home" and "Bouchon Bakery," and "The French Laundry," "Bouchon," and "Under Pressure," a book devoted to sous vide cooking, are in print.
Keller was designated a Chevalier of The French Legion of Honor in 2011, the highest decoration in France, in recognition of his lifelong commitment to the traditions of French cuisine and his role in elevating cooking in America. He is only the third American culinary figure to be so honored.
As chef de cuisine, Chad Palagi leads the culinary brigade in a collaborative manner to develop the daily changing tasting menus. With years of experience in the Per Se kitchen, Palagi was a natural choice to become the restaurant's fourth chef de cuisine. And with his roots in restaurant management, he cultivates collaboration between the kitchen and the dining room. Palagi also focuses on teamwork in the pursuit of excellence, helping to make wonderful memories for guests.
A Napa Valley native, Palagi grew up around the hospitality world, as his father worked in restaurant management. After attending the Napa Valley Cooking School in St. Helena, he gained experience in Napa and San Francisco before heading east to join the Per Se team as commis in 2012, eventually working his way up to sous chef. In 2017, he moved back to the Bay Area, where he became chef de cuisine at Michelin-starred Rich Table. He returned to Per Se in early 2021.
"There are few places that give a chef the opportunity to succeed at such a high level," Palagi says. "I look forward to sustaining and building off of what the previous chefs have built and to creating my own legacy."
As the pastry chef at Per Se, Michael is responsible for overseeing all the dessert offerings and chocolate production for the restaurant, while ensuring that his team exceeds the guests' expectations and standards of excellence set by Chef Thomas Keller. In this capacity, he supports Chef de Cuisine Chad Palagi and guides the team in daily pastry production with the attention to detail that defines Chef Keller's restaurants.
Michael's journey within Chef Keller's restaurants began in 2015, where he started as a bread baker at Bouchon Bakery at Time Warner Center before joining the pastry team at Per Se the following year. Prior, he assisted with production at bean-to-bar chocolate company, Fruition Chocolate, in upstate New York.
Born and raised in New Jersey, Michael's fond childhood memories of homemade birthday cakes prepared by his mother and watching Jacques Pépin and Julia Child on television led him to pursue a career in the kitchen. He holds an associate degree in baking and pastry arts from the Culinary Institute of America, Hyde Park.
As General Manager for Per Se, Sandra Schaeuffele provides leadership and mentorship to the dining room team to ensure that Chef Thomas Keller's meticulous standards of hospitality are maintained. In this role, she is responsible for the day-to-day operations of the restaurant and, above all, ensuring the highest quality of guest experiences. Sandra has been with Per Se for six years, where she first began as a Captain and quickly rose to Maitre d' and most recently Assistant General Manager.
With each role, she has shown achievement and an adherence to the core values Chef Keller has set for his restaurants. Her previous experience includes working in senior management roles in international hospitality, and she brings this expertise to Per Se.
Originally from Germany, Sandra has studied with the American Sommelier Association, reaching a Level 3 Certification, giving her a strong understanding of Per Se's comprehensive wine program. Her deep appreciation for hospitality and fine dining stems from her enjoyment of guest relations. Sandra holds a degree in hotel management from the Paul-Kerschensteiner School in Bad Überkingen, Germany.