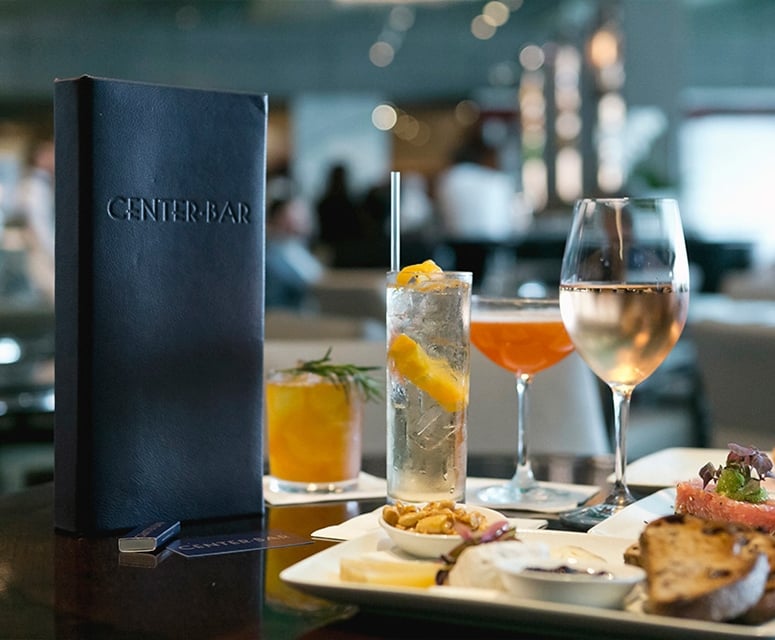 A restaurant, wine bar and classic cocktail lounge featuring a selection of tapas-style small plates of savory and sweet dishes prepared in a display kitchen under the direction of Chef/Owner Michael Lomonaco, whose neighboring Porter House Bar and Grill has established itself as one of New York's leading modern steakhouses.
Center Bar is located at The Shops at Columbus Circle, with dramatic city views of Columbus Circle, Central Park and New York's inspiring skyline. Featuring the refined and notable modern American cooking of Michael Lomonaco with a range of influences and flavors, and a wine list of extraordinary champagnes and fine wines from around the world, under the curatorship of Michael Lomonaco and Wine and Spirits Manager Brad Nugent.
Hours:
FOOD + COCKTAILS
Tuesday-Saturday: 4:30pm – 10:30pm
A native New Yorker, Chef Michael Lomonaco has spent his career elevating the American Table at such iconic restaurants as '21' Club and Windows on the World, before establishing a home in the Time Warner Center in 2006 with Porter House Bar and Grill and Center Bar.
At his newly refreshed Porter House Bar and Grill, Michael offers a broadened menu of seasonally-inspired dishes, classic cocktails and a carefully curated international wine list. While next door at Center Bar, Michael serves hand-crafted cocktails and Mediterranean-inspired small plates.
A cookbook author, Michael is a familiar face, having hosted shows on Food Network, Discovery and Travel Channel.