CENTRAL PARK THEN AND NOW
There are not many public spaces along Central Park that afford great vistas, but The Shops at Columbus Circle, with its floor-to-ceiling windows is one of the best places in New York City to get a bird's-eye view of the world's most famous park. And much like The Shops at Columbus Circle itself, Central Park has lots to offer, including a rich history.
The Shops at Columbus Circle faces the main entrance to Central Park, Merchant's Gate, which is marked by the Maine Monument. This is the most traversed "gate" into the park, known for its stunning gilded statue that was dedicated in 1913 to commemorate the sailors who died during the 1898 sinking of the USS Maine.
Central Park was once the land of farms and forts, squatters and factories, as well as a small village. As the urban landscape of Manhattan started to expand northward, legislators had the foresight to preserve a piece of nature for generations to come, hiring architects Frederick Law Olmsted and Calvert Vaux to convert the area into the first urban landscaped park in the United States. The construction of this majestic 843-acre green space began in 1857, and today, only the glacial boulders from the original site remain. More than 270,000 trees were planted: You can spot a back tupelo from 1862 in a meadow in the Ramble.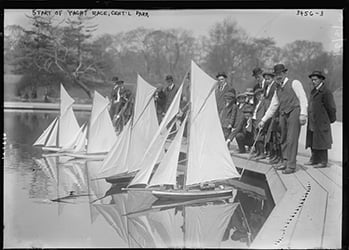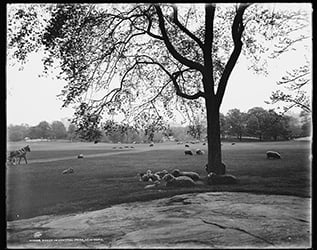 Immediately after Central Park opened in the 1870s, people treasured the park for strolling along the scenic paths, racing boats in the pond, and people watching — just as New Yorkers do today. There are many secrets and "finds" in the park, such as the famous statue of Balto, the sled dog from Alaska, which has stood on his rock since 1925, and if you can find it, a seemingly unspectacular bolt battered into a rock about 200 years ago. It's one of the last vestiges of lost New York, one of the original survey markers that led to the modern real estate gridded metropolis we know today.
Not a secret (but for those in the know) are the views day and night from The Shops at Columbus Circle overlooking the park, skyline and action, all of which can be taken in in a wonderful temperature-controlled climate and with a delicious croque monsieur, cappuccino, or cocktail in hand.
Top row: The New York Public Library
Second row, from left: Library of Congress LC-USZ62-100272; Library of Congress LC-USZ62-111299
Third row, from left: Library of Congress LC-USZ61-661; The New York Public Library; Library of Congress LC-DIG-fsa-8d22155
Fourth row, from left: Library of Congress LC-DIG-det-4a08821; Library of Congress LC-DIG-ggbain-18969
Bottom row, header: iStock
STAY IN THE KNOW
SIGN UP TO RECEIVE MORE CONTENT LIKE THIS AND EXCLUSIVE INVITATIONS AND OFFERS ON FOOD, FASHION AND FUN.