BEST IN CLASS: BACK-TO-SCHOOL CLOTHES
School bells will be ringing soon, which means it's time to start shopping for your kids' back-to-school wardrobe. The Shops at Columbus Circle will make sure they have an A+ experience.
Head to Crewcuts at J.Crew, which caters to students with a sense of style. This season it's all about layers and accessories — no matter your age. Dress up a pair of jeans with a colorful bejeweled top and a chic scarf for a look that will definitely get her noticed in the hallway. Everyone needs a backpack, and Crewcuts lets children express themselves with a range of bright colors and fanciful patterns (cat whiskers, monster googly eyes). Crewcuts also sells whimsical iron-on patches to personalize jeans jackets, hats, even notebooks.
If your little one wants to stand out, H&M is ground zero for statement-making fashions. For girls, there are sparkles everywhere, scattered across T-shirts, sweaters, dresses, and flouncy skirts. Start the school year off right with a shirt that's decorated with butterflies and flowers and has a great piece of advice emblazoned on the front: "The adventure begins now: do what you love." Boys will be looking like junior DJs in H&M's designs for the season — think hoodies and skinny jeans.
Diesel is known for its rock-and-roll aesthetic, which translates to the kids' line as well. You'll find jeans in all styles and colors — black, blue, ripped, frayed — for both boys and girls. Diesel even sells a black leather jacket with zippers and buckles that looks like the kind your favorite rock icon wore.
A day of shopping will definitely work up an appetite. Stop for a bite to eat at Landmarc, recently named one of the most family-friendly restaurants in New York City by Open Table. Your kids will be wishing that the food in the school cafeteria was as good as this.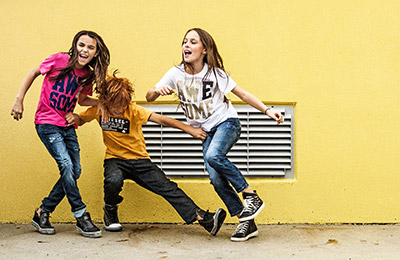 STAY IN THE KNOW
SIGN UP TO RECEIVE MORE CONTENT LIKE THIS AND EXCLUSIVE INVITATIONS AND OFFERS ON FOOD, FASHION AND FUN.